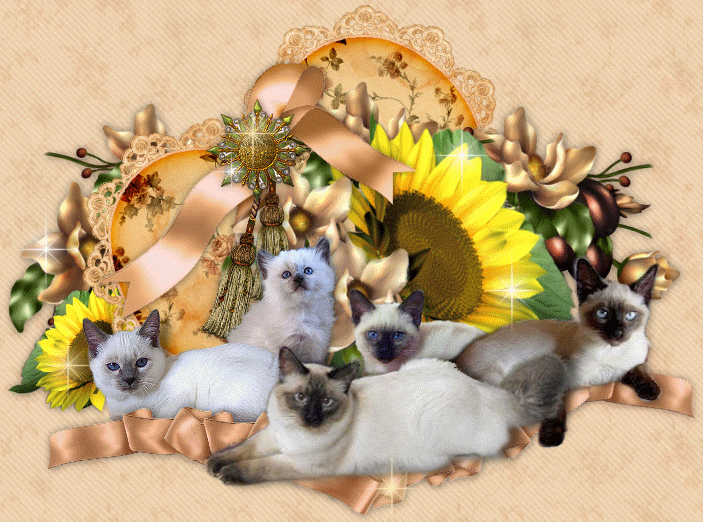 The Traditional Siamese & Balinese is my breed of choice. They make wonderful family additions as well as super companions. I've been a Siamese Hobbyist / Breeder for 39+ wonderful and full enjoyment years now. Since 1985
My Cattery is registered with CFA,T.I.C.A, CFF & ACA.  I REGISTER MY KITTENS WITH CFF.
ALSO I'M ON THE BOARD OF DIRECTORS OF ACA.
Kittens may go home any where between 11 and 12 weeks old, solely at my discretion.
DEPENDING ON HOW THEIR EATING SOLID FOOD AND THEIR GROWTH. TITUS DOES THROW BIG BABIES. SO PLEASE BE PREPARED AT EITHER 11 TO 12 WEEKS OF AGE TO BE AVAILABLE FOR PICK UP. MARK YOUR CALENDARS.
Please make sure you are ready for him/her to come home on the day they are available.
Otherwise there will be boarding fees, $18.00 per day. Also I have specific times to pick up.
Between 12 pm and 2 pm on weekends only. NO EXCEPTIONS
MY ADDRESS IS NOT 7575 PACIFIC AVE.  IT USE TO BE MY VETS LOCATION AND SOME HOW GOT MIXED UP WITH MY HOME ADDRESS AND PHONE NUMBER.
I ONLY GIVE OUT MY HOME ADDRESS WHEN KITTENS ARE READY TO BE PICKED. UP.
Due to Covid 19 pick up at my house has changed
I DO NOT SHIP ANY LONGER.
DUE TO COVID I NO LONGER DO VISITES. AFTER THE KITTENS ARE BORN I SEND ON REQUEST A VIDEO OR YOU CAN FACETIME ME AND I WILL SHOW YOU THE MOM AND BABIES. THERE IS NOT MUCH TO SEE BEFORE 4 TO 5 WEEKS BUT YOU CAN SEE THAT THERE IS A LITTER.
In order to have healthier Moms that produce healthier babies, I do not breed year round. But it is really up to my girls. Moms need breaks too.
All our kittens are loved by us from the moment they are born. Our cats are our family first. I know each of my cats by their personalities and can tell who is who just by their meow. My fur kids are not Commodities.
Deposit is required to to be on my wait list to hold a kitten.  Deposits are none refundable but goes towards the next litter.
But if I have the sex and color you want and you end up refusing it, your deposit is forfeit
Only people on my waiting list have the first choice. It's first come first serve In order of deposits placed. This agreement is a verbal one and is binding, NO exceptions.
I have no control on what my moms produce and when.
For up-and-coming new litters and to be put on my waiting list, it
requires a deposit.
Payment options for deposits are Zelle, money orders or cashiers check from your bank. NO PERSONAL checks. Cashiers checks and money orders must be made out to owner/breeder Linda Yamamoto 
Final balance payment is to be cash only at time of pick up.
Kittens will be vaccinated at 6 and 9 wks Which includes Panleukopenia ( Feline Distemper) Rhinotracheitis (FVR) and Feline Calicivirus
Also 3 rounds of Deworming with Panacure
My kittens are guaranteed against any genetic health problem for 1 year.
Please contact me for availability.
To-Lyn Cattery strives to give the customer the best value and quality for their hard earned money.
THE BABIES ARE READY AT 11 to 14 WEEKS OF AGE. IF I GIVE YOU A PICK UP DATE WHEN THEY ARE READY YOU MUST PLAN ON THAT DATE FOR PICK UP OR YOU WILL BE CHARGED A BOARDING FEE. I CHARGE $18.00 PER DAY.
My Siamese/Balinese kittens are sold as pets only. It is my choice not to do the early spay/neuter. My opinion from experience is that they should have some time to mature before having this procedure.
I use top quality food ( Life's Abundance) and cat litter ( Worlds Best brand)
I spend a great deal of quality time with my kittens to get them socialized for you to enjoy for a long and healthy life as a loving companion and family member. As are mine
Also the food I'm feeding my babies/cats
Dry - I feed is Life's Abundance, All Life Stages. It is a holistic food that I have been feeding since 2008. In the 39+ years of breeding I have tried several brands. This is what I think is the best. I have seen an all around better health and the condition of their coats are healthier.
Now you can't purchase this from the store. Only online.  You can call them @ 877 387-4564.  You can also choose to have it auto shipped. I will give you some to take home.
Litter - Is World Best. It is made from corn so you can just flush it down your toilet.
I do not believe in denigrating (Bashing) other breeders or their catteries to potential customers. If I don't have what your looking for I will refer you to another reputable breeder who I feel will have what your looking for, same price range, and shares the same ideas about what is important in breeding these beautiful cats as I have all these years. MOST GOOD CATTERIES BACK THEIR CATS/KITTENS 100%. IF ANYTHING SHOULD HAPPEN IN THE FIRST YEAR THAT IS RELATED TO MY CATTERY. THE KITTEN WILL BE REPLACED. NO REFUNDS 
Most breeders are all striving for the same purpose,  FOR THE LOVE OF THE BREED NOT THE MONEY.
Linda @ To-Lyn Cattery
Our Cattery Vet
DR TRACY GLIEBERMAN
VENETIAN PET HOSPITAL
(209) 477-3926